Biography
(September 27, 1860 — September 4, 1950)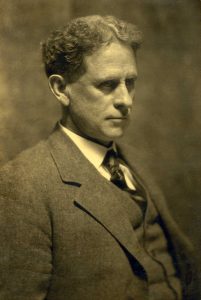 Proctor was a prolific artist best known for his bronze depictions of western and wildlife subjects and his public monuments. Though born in Canada, Proctor spent his youth in Denver, Colorado, where boyhood escapades and family camping trips in the Rockies and their foothills kindled in him a lifelong wanderlust. Proctor was, from an early age, "at home in the open," as he wrote, and his interest in outdoor adventure fed his artistic practice throughout his career. In the West's wild reaches, the artist sought solace, pursued his passions for hunting and fishing, and sketched the landscape and the creatures that roamed its great expanses. And although he became restless after too long a stint in town, the dusty streets of Denver with their cattle drives and the antics of roughneck cowboys, miners, and hunters also provided ample inspiration for the budding artist. Proctor established a pattern in his teens and early twenties of summering in the high country and spending winters in a downtown studio where he fulfilled commissions for illustrations and worked up sketches into finished paintings. He would continue this itinerant lifestyle long after he moved away from the Colorado frontier; the mountains of the West beckoned him, and whenever he could, he answered their call.
Proctor worked under the tutelage of several established artists in Denver, but was predominantly self-taught during his early years. His artistic growth was also encouraged by his cohorts, fellow artists with whom he shared studio space and exhibited work in venues across the growing local cultural scene. An 1883 trip to Yosemite catalyzed his resolve to become a professional artist, but several years would pass before Proctor could afford to move to New York City, a longtime goal of both the artist and his father, who supported his son's aspirations wholeheartedly. In the winter of 1885, Proctor traded the open spaces of the West—his early classroom—for the museums, galleries, and studios of New York. Although he continued to sketch and paint, he increasingly turned to sculpting as his preferred form of artistic expression. He undertook formal training at the National Academy of Design and the Art Students League and, on his own time, sketched and modeled animals at the Central Park and Bronx Zoos. Working alongside (and sometimes inside) the animal paddocks, he honed his skill as a sculptor not only of western wildlife but of more exotic species as well. His intimate understanding of animal anatomy and locomotion, based on close study of live and dissected specimens (which he harvested himself in the field or examined in the lab of the American Museum of Natural History), lent his compositions an air of authenticity that few other animalier artists of his era achieved.
Throughout his life, Proctor was an eager student with an almost insatiable hunger for knowledge. He sought beauty and ideal forms in nature, looked to classical Greek statuary for inspiration, and solicited advice from instructors and artist peers. Proctor's pursuit of perfection was inexhaustible, and his career was marked by an intense passion for his subjects and commitment to his craft.
For his first major commission, Proctor was invited to create life-size sculptures to decorate the grounds of the 1893 World's Columbian Exposition in Chicago. His subjects were western animals and equestrian models of a cowboy and an Indian, the latter inspired by William F. "Buffalo Bill" Cody's Wild West performers. His work earned him accolades, and, encouraged by this success, he decided to travel to Paris, the veritable center of art and culture, to broaden his horizons. There, he studied at the Académie Julian and the Académie Colarossi, frequented the city's historic museums, and continued to study animals at local menageries. He would later return to Paris, and spent time in Rome as the Resident Sculptor of the American Academy.
Proctor traveled extensively not only to further his studies but also to fulfill commissions, satisfy his adventurous whims, and seek new, compelling subjects. As he wrote in his autobiography, "Smoke from my tent has curled into the sky in many places." Often with his wife, Margaret "Mody"—a talented artist herself and Proctor's most dedicated supporter and critic—and their family in tow, the sculptor ventured from the bustling cities of continental Europe and America's East Coast to quieter locales west of the Mississippi and Missouri Rivers. The American West proved an endless source of inspiration and rejuvenation for Proctor, and some of his best-known works featuring American Indian and cowboy subjects and wildlife were based on his experiences visiting Cheyenne, Nez Perce, and Blackfoot Indians on the northern plains; observing buckaroos at roundups and rodeos from California to Oregon; studying and sketching bison at a game preserve; and roaming wild places from Colorado to Alaska.
Proctor became one of the most acclaimed artists of his time, garnering public and private patronage that placed his sculptures, from small bronzes to heroic-size monuments, in prominent private collections, city centers, and renowned museums. He collaborated with the leading artists of his day, including Augustus Saint-Gaudens. He was a member of more than twenty-five professional organizations and won significant national and international awards and honors for his sculptures and paintings. He befriended American presidents, European dignitaries, influential figures in America's emerging conservation movement, distinguished artists and collectors, and many among the upper echelons of academia and business. Some of these illustrious friends he immortalized in bronze and stone portraits.
Although Proctor trained in traditional art academies and espoused classical European models, his career was equally shaped by his lifetime of experiences in the western American wilds. The sculptor felt as much at home in the backcountry as he did in urban art capitals, and his ability to nimbly navigate these disparate worlds contributed greatly to his success. Illustrative of what Peter Hassrick has called Proctor's "duality" was the artist's application of a refined French Beaux-Arts style, which he mastered through the years of committed study, to fundamentally American subjects and themes. Drawing on his own personal history and the larger social and natural histories of the American West, Proctor's paintings and sculptures celebrated—with all the elegance and grace of the Beaux-Arts aesthetic—some of the characteristics often associated with the West and North America, traits he himself also embodied: independence, optimism, industriousness, and bravery.
Karen B. McWhorter